In December 2015 I went to Samoa for 10 days for a Matai ceremony in the village of Iva, which is on the island of Savaii. The ceremony was for the title of Magele, which there were a significant number of us sitting in for, all 74 of us each paying $2000 (Samoan dollars) as well as giving fine mats as payment. The money and fine mats from my understanding on the day were all then gifted to the village to which the name belonged to.
Apart from the material aspect of the ceremony, it was quite an enlightening cultural experience, one that I will most probably never experience again in that magnitude. So I was very blessed to have been a part of it.
We were also there for my mothers Fa'amausili family gathering which happens every 2nd day of every year. This year marked the 100th birthday of our family gathering. Another event that took place while we were there was the unveiling of my grandmas new headstone and a few of her siblings that were buried next to her. So all in all, it was quite hectic time in Samoa, and we didn't even make it to the beach. Rentals were also hard to find, so I would suggest you plan ahead haha
The rest of the images I will try and narrate you through them as you scroll down.
My aunty's daily routine is waking up and sweeping the leaves on their property every morning, and my uncle, who is in the plantation all week and only comes home for the weekends. He is 73 years of age and works harder then anyone I know, and working the plantation is quite labor intensive and I love this candid portrait of him, because to his left are the portraits of his grandchildren.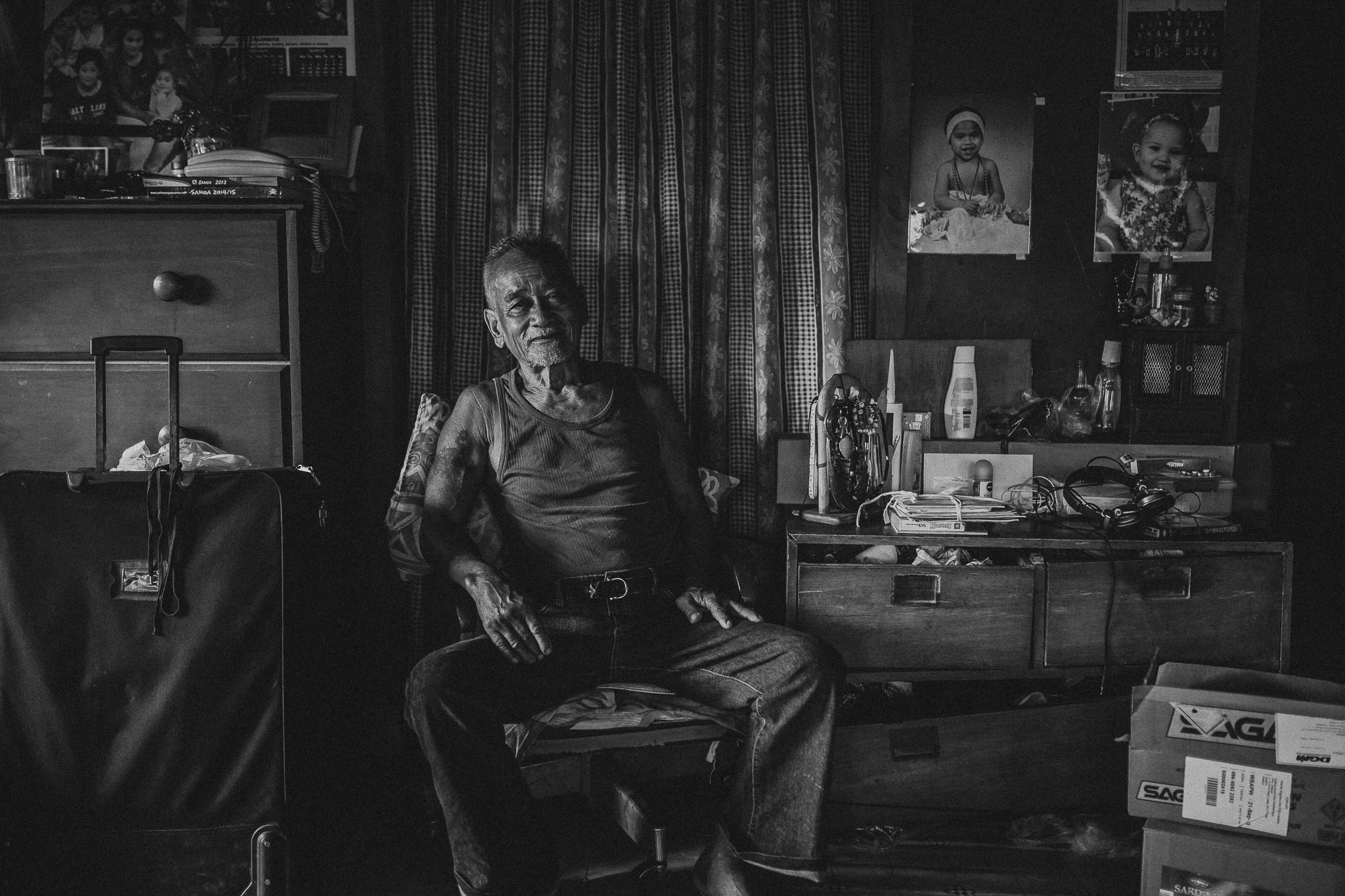 I pretty much took my camera with me everywhere I went while in Samoa. And so, on our visit to the local shop the Sunday morning we arrived, I noticed that the people were buying food when they have access to ingredients to make these foods in their backyard. So whether it was out of convenience or they just ran out of time before church it somehow felt wrong to me. I am also conscious that I don't live there nor do I know what they go through on a daily basis but logic tells me that why would I buy food that I can find in my backyard?
During our time in Samoa, I would say that it rained 75% of the time. Which made our options for daily activities a little limited. But Samoa's infrastructure has been very well developed over the years. I'm not sure what the actual statistics are, but the majority of the Island are churchgoers and so you will find a church building every 100m or so. That Sunday morning, the streets were filled with church choirs singing their Sunday hymns which was beautiful to hear which gave the ears a break from the constant barking mad dogs.
On our way to Savaii for the Matai (chief) ceremony
Upon our arrival anywhere we went, we were always welcomed with food or a cuppa tea. Island life in Savaii felt a lot different to what we had experienced in Upolu (main Island). It still felt people are still very much reliant on the land and are using it wisely. Fruits, taro bread fruit were abundant and chickens ran freely, unless they were that nights dinner haha
It was so awesome to see my nephews and nieces, the one pulling his tongue at me was especially entertaining asking me for a fight and just constantly being cheeky.
The day before the ceremony, high chiefs from the family gathered in Iva. On this day, everyone that was getting the Magele title had to bring their $2000 along with their fine mats so it could all be put together. I was a little confused with some of it, and I wasn't sure whether all these 74 people getting the title along with their families were all related to me somehow? But the chiefs had been there all day right up until 11pm that night waiting for all the families to bring their money and fine mats, as we just dropped off our share and went back home.
The ceremony started at 8am, but we got there late and so everyone was already seated and we had to sit right in front which was quite embarrassing but better late then never I always say haha. Before the ceremony started, a minister/priest blessed the day and delivered some words of wisdom, which touched some of those sitting their titles and they felt obliged to bless the minister/priest with more offerings with their leis made of money and some head pieces were also made of money which they gifted to the minister. On top of that, the minister was also gifted with $5000 from the family which from his reaction he did not expect.
The attire for when you sit for a Matai title is you are basically draped in silk like fabric, and if you were sitting for a high chief title you had to wear a head piece which is called a pale. Which is pronounced ba le. Once the ceremony part is done, everyone had to take off their head pieces and the fabrics they were draped in and put it all in one pile. These I was told were then part of the offerings back to the village.
After the ceremony the family gathered on one end and the village gathered on the other, and then begun the offerings. I'm not sure on how everything was divided but I think depending on your rank or title determined how much you would receive.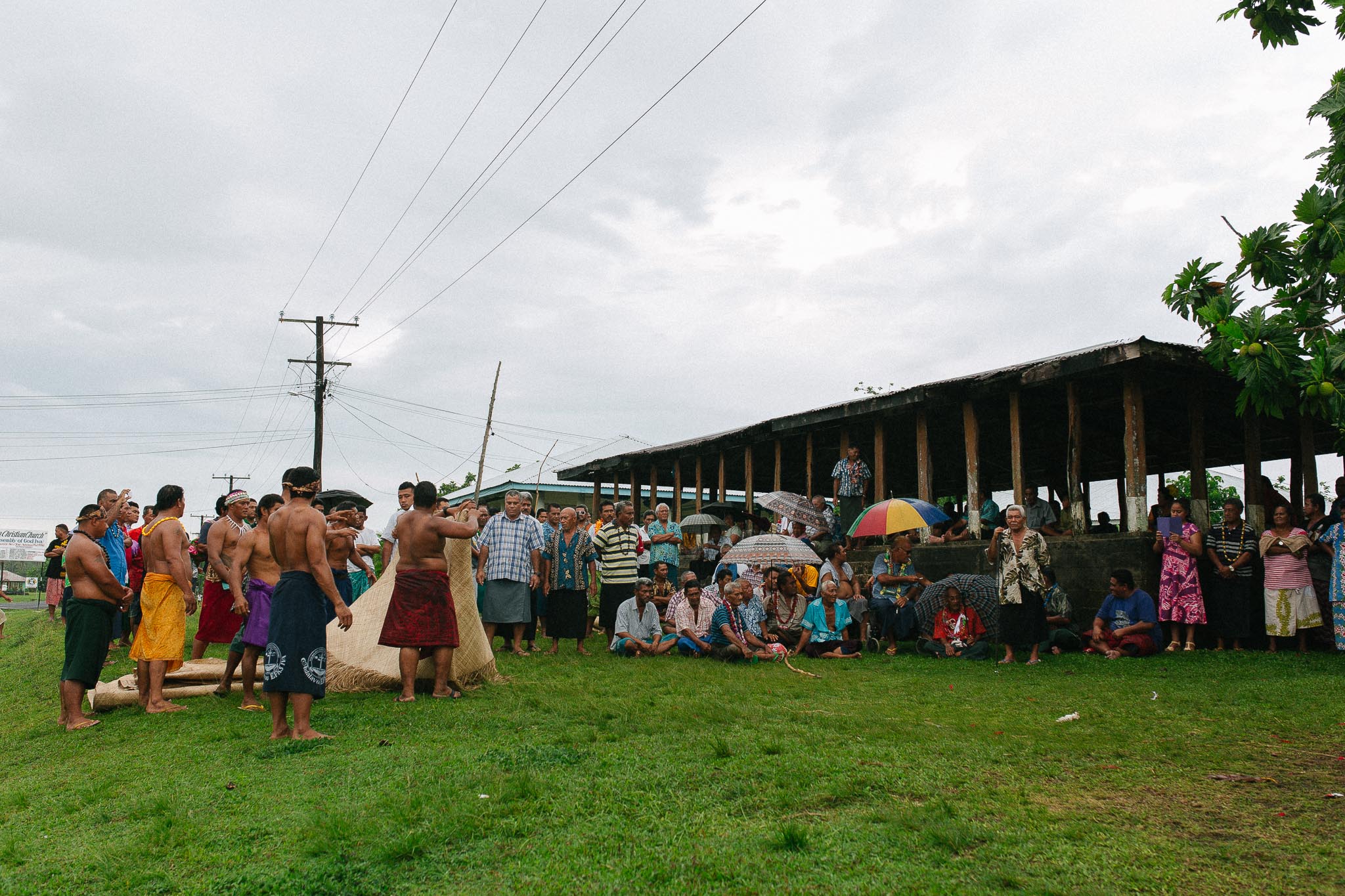 These images were taken after the ceremony which was basically our last night in Savaii. The water hole you see in the images is a fresh water swimming hole which after a long day of sitting at the matai ceremony was absolute bliss. The sunset that evening was so epic I almost missed it because we had a little evening prayer with the family. So i had to pump the iso quite high in order to capture the water hole photo but it was so worth it grain and all.
Fa'amausili gathering in Malie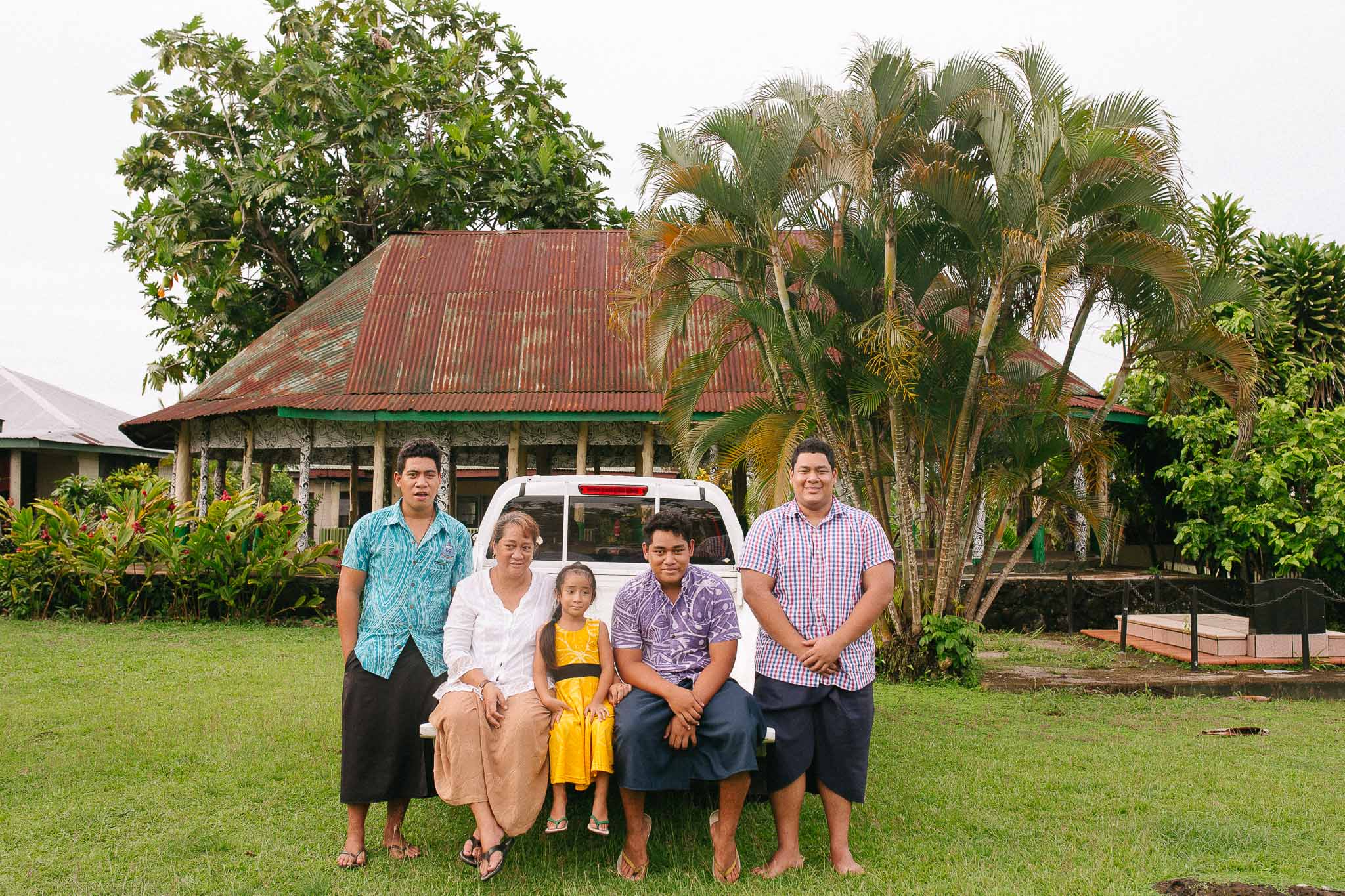 Unveiling of the new tombstones for grandma and some of her siblings. I thought it was an interesting concept of burying your family members on your land. I wasn't sure why it was done or the whole concept behind it but I would love to do a project on it in the future.
Our last night in Samoa I took my cousins and my little sister out to the movies. We got there early so I went for a little wonder and captured a few frames of Apia in that golden light. On almost every busy corner of Apia, you would most likely find a kid selling something from hair pins to cotton buds. In a way, it was kind of sad but everyone was on that hustle. I also came across a missionary from Australia, most times I would try and avoid them but this time I actually wanted to hear his story and what he had to say about religion which was melancholic being our last night and all.
The day of departure - 9.45pm :(
As soon as I woke up, I got ready and went and caught the bus down to Apia. I spend the whole day walking from Mulinu'u all the way to the Matautu and trying to take in as much as I could in 5hours.